The Juvenile Assessment Center presents
HIGH IN PLAIN SIGHT with Jermaine Galloway
Alcohol, Drug & Concealment Trends Among Youth Workshop 
designed for Parents, Educators, Counselors, Probation Officers, Law Enforcement, Case Workers, Community Leaders, Judges and Treatment Providers.
LIMITED SEATING AVAILABLE AS OF 11/30 – SECURE YOUR SPOT TODAY
Cost: $125 EARLY BIRD PRICING (10/23/17-11/07/17 regular pricing 11/8/17: $150)
Includes: FREE PARKING, CONTINENTAL BREAKFAST & LUNCH PROVIDED
When: DECEMBER 7, 2017 | 8:30AM-3:30PM
Where: FAMILY RESOURCE PAVILION | CENTENNIAL, CO
Register: ON EVENTBRITE  (https://jac-workshop.eventbrite.com)
Flyer: CLICK HERE
This one-day event covers such topics as:
Alcohol/drug clothing, signs and symptoms
Alcoholic energy drinks and alcopops
Non-traditional alcoholic beverages
Synthetic drugs (including opioids)
Popular party drugs
E-cigarettes
Inhalants
Concentrates
OTC drugs
Alcohol/drug containers and concealment methods
Drug paraphernalia
Drug-related music and groups
New alcohol/drug-related technology
Youth party tendencies
Party games
Social networking sites
This workshop features more than 120 visual aids and a community scan of convenience stores and other retail locations for information concerning the local drug culture.
SCHOLARSHIPS | Available to Law Enforcement Officers and Parents. Email a letter of interest to contactus@jac18.org
TICKETS | On Sale Soon! https://jac-workshop.eventbrite.com Bookmark this page for future reference.
Questions? Contact the JAC: contactus@jac18.org
---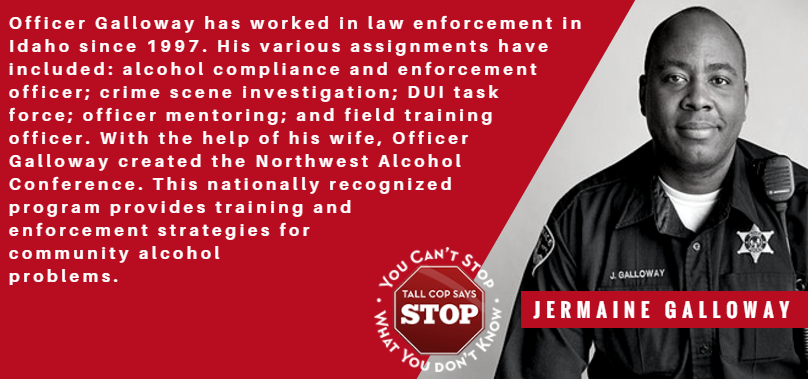 Officer Galloway has worked in law enforcement in Idaho since 1997. His various assignments have included: alcohol compliance and enforcement officer; crime scene investigation; DUI task force; officer mentoring; and field training officer. With the help of his wife, Officer Galloway created the Northwest Alcohol Conference. This nationally recognized program provides training and enforcement strategies for community alcohol problems. A recent conference in Boise, Idaho attracted more that 400 people from 28 states. Officer Galloway has created several other community-based drug/alcohol prevention programs as well.
Jermaine played Division I basketball and received his BA from the University of San Francisco. He spends much of his time today speaking to youth at school assemblies, professionals at drug prevention trainings and parents at town hall meetings. To date, he has trained more than 105,000 people nationwide and internationally. He has also conducted more than1000 community scans at a variety of locations, including: retail stores; festivals; housing areas; schools and universities.
To date, Officer Jermaine Galloway has organized, coordinated and led:
60+ alcohol retail compliance checks, which have resulted in more than 1,800 checks of alcohol retailers
90+ underage drinking party and kegger patrols
40+ alcohol adult provider and minor decoy operations ("Shoulder Taps")
60 fake ID trainings for bars, restaurants, liquor stores and other alcohol retailers
70 large and special event alcohol enforcement projects
Jermaine Galloway has published articles in American Police Beat Magazine and various newspapers. In 2015, his program "You Can't Stop What You Don't Know" was highlighted in the book Clearing the Haze by Dr. Christian Thurstone and Christine Tatum. He has also been highlighted in numerous news stories on such topics as: Marijuana; E-cigarettes; Party patrols; Underage drinking; Drug trends and stash compartments.
Officer Jermaine Galloway has received such prestigious honors as:
2009: National Law Enforcement Partner of the Year award from Office of Juvenile Justice and Delinquency Prevention (OJJDP)
2010: National Mickey Sadoff Underage Drinking Award from Mothers Against Drunk Driving (MADD)
2014: National Liquor Law Enforcement Association's (NLLEA) innovative project award (given to Boise Police Department for Galloway-led 10-10 Zone initiative)
2015: National and international award for American Association of Motor Vehicle Administrators (AAMVA) for work and training on fake IDs and underage drinking
Read More About Officer Galloway: http://www.tallcopsaysstop.com